TABLE OF CONTENTS
An Appreciation of Big Star, by Chris Kunkel

For all of you power pop fans Rob Jovanovic has written a book about Big Star. He describes the birth, rise, fall, and resurrection of one of the first modern power pop bands. He details all of their recordings as well as the inspiration behind them. If you love their music you need this book to understand it better.

For many of us alive in the 1970's Big Star was the missing link in the power pop chain. They connected the original 60's music that became known as power pop with the music later made by the new wave bands of the late 70's and early 80's.

For me the Big Star story strikes a very personal note. My discovery of them coincides with me reinventing my musical tastes. As a child I had been influenced by the Beatles and the British Invasion bands. I loved the up-tempo, guitar based sound that many of the songs had. As I grew older music progressed away from those sounds. Until 1974 I listened to whatever mainstream FM radio programmed. Those days bands like Yes, Led Zeppelin, The Who, Rolling Stones, Allman Brothers, CSNY, Deep Purple, and similar sounding acts dominated the airwaves. The music that the Beatles originally had played had become outdated and quaint. No one listened to short catchy guitar driven songs. Every popular tune was long and extended.

Around this time a few friends and I wanted to see if there was more music then what was getting airplay. We decided to find out if anyone was still playing that "Beatle sound". (In 1974/1975 we did not know the term power pop.)

As we searched for new sounds we rediscovered bands like the Raspberries and Badfinger. Unfortunately they never received the critical and popular acclaim in their time. They were gone by 1974. We also reacquainted ourselves with older groups like the Byrds, Beach Boys, Kinks, Hollies, Small Faces, and Move. The shame was that this type of music had very little play in the mid-1970's.

In our travels to find groups who still made the 60's type of music brought us to many rock clubs. There we met DJs who told us about a legendary band that no one ever heard. They said that if we wanted to find the Beatle sounding music we should look for Big Star. Alex Chilton was the lead singer and writer. He was the vocalist from the 60's band, the Box Tops which made him somewhat famous.

Back in 1975 there was no internet to research them and there was no Amazon or other outlets to buy their music. Since they were a commercial failure their records were out of print and relegated to the cut out bins. It was not going to be easy to hear their music.

For us this began our Holy Grail-like search for their first two albums, # 1 Record & Radio City. It would take us years to find them. In 1978 the PVC label would release their 3rd album after years of delay. When we acquired and listened to the first two records we were rewarded with the best power pop of its time. The third album would show in a tuneful manner their disappointment at the lack of commercial success.

By the time we found our Big Star albums the new wave of music was in bloom. Acts like Nick Lowe, Elvis Costello, REM, Cars, Tom Petty, Greg Kihn, and many others were showing that classic rock was not the only way to make music. As inspiration for many of these artists Big Star can be thanked for championing power pop in its dark ages. Without them we might not have many of the tunes that we come to know and love.

The New York Power Pop Page Presents at Kenny's Castaways

ALL PHOTOS BY BRIAN VANGOR

JOHN BRODEUR OPENED THE SHOW, WITH A GREAT SET!

JILLIAN RHYS AND THE CHURCHILLS

POWER POP FANS BRIAN VANGOR AND MICHAEL KAY

YOUR WEBMASTER

LOST HONCHOS

CLIFF HILLIS AND THE FORWARD THINKERS

Myracle Brah at The Lakeside Lounge June 20, 2007
The latest incarnation of Myracle Brah drove in from Baltimore to play at this tiny club. Although the band is basically Andy Bopp and whomever he decides to play with live, the current version, including Greg Schroeder on Drums and Cliff Hillis on bass, previously made an album called "Lemon Fresh", produced by Andy. You won't easily find that CD by the band Starbelly, it's been out of print for years. Greg has played drums on previous Myracle Brah albums, but Cliff rarely dons the four-string.
The band played several songs from the forthcoming CD, "Can you Hear The Myracle Brah?", and also classic tracks from both Myracle Brah and Andy's previous band, Love Nut. Here's the set list taken verbatim from Greg's copy:
| | |
| --- | --- |
| | Whisper |
| | Gooday to the Night |
| | 1st Kiss |
| | Walking on Water |
| | Isn't t a Crime |
| | You're Full of Strangers |
| | Hearts on Fire |
| | She's So Young |
| | Run to the Voices |
| | Albert Hand |
| | Foolish Game |
| | Miss Fortune |
| | You're My Heaven |
| | Big Kids Wanna Rock |
Fans will recognize "Whisper" to be "Whisper Softly". "Foolish Game", recorded by Love Nut, is a typical example of Andy's brilliant songwriting - the song twists and turns, filled with more surprises than in a Cracker Jacks box, with themes that play separately and together, interleaving like mesh.
Myracle Brah will return for an encore performance at the Lakeside on September 5th!

The Radio Heartbeat Power Pop Festival at Southpaw March 29th - April 1st in Brooklyn was a voyage in a
time machine. The kids love power pop! The merch table was selling lots of new
vinyl, and the kids dressed up like it was 1978. Everyone was wearing buttons.
The most amazing moment was seeing the crowded audience of twenty-somethings
joining 20/20 in the chorus of "Shake Some Action", arms raised in salute.

I had not seen 20/20 since 1980 in L.A., so when they lit into "Tell Me Why",
tears were welling in my eyes. I am so happy that Ron Flynt has recovered from
his accident and is playing guitar again.

Fab Four Mania!
One of my favorite jokes revolves around the success of tribute bands. For
example, there's a plethora scheduled to play at B.B. King's just this month
alone - Trippin' Billies (Dave Matthews), Strawberry Fields, Badfish (Sublime),
The Machine (Pink Floyd).

So I predicted we will soon see tributes to tribute bands. Zonked Out Billies
(Trippin' Billies), SF 4ever (Strawberry Fields), Worsefish (Badfish) and The
New Machine (The Machine).

I was in Las Vegas, and the Fab Four were playing in a shopping mall called the
Desert Passage, or so I thought. I was not so naive to think that the Beatles
were resurrected, but I did have some hope to see a well-respected tribute band.
But instead I got to see Fab Four Mania, in effect, a tribute to the Fab Four
tribute band. So The Fab Four is now a franchise operation!

I enjoyed the show immensely, although it could be improved. The sound was
amazingly accurate for a four piece, "Paul" had a sweet voice but could not
match the real Paul's power.
"George" was played by Liverpudlian Gavin Pring, who looked so uncanilly like
George that he should search his family tree for a relationship. In honor of the
impending 25th anniversary of John's death, "John" played "Imagine" and gave a
self-eulogy, it was weird seeing him go out of character. And "Ed Sullivan"
needs a better make-up job, although he had the mannerisms down perfectly.

http://www.thefabfour.com
http://www.thefabfour.com/main2.htm

Copperpot performing at T.T. Reynold's in Fairfax, Va September 4, 2005
(photo by George Agnos)

(l-r Worth Beeler, Marshall Amplifier, Jarrett Randazzo, Scott Ingwersen, Anthony Natale)
Copperpot have an old yellow school bus. They often pack their musical equipment, fill up the tank (ouch!), and set off to say, New England, to teach a class in great New Jersey rock. On Labor Day weekend, the off-campus site was Northern Virginia, where they faced a crowded bar of eager fans waiting to get lessons in melodic music. T.T. Reynold's has a bit of an historic feel, the stage is basically facing a wide hallway, but this bar is where the NoVa kids just out of college go to meet friends and have a good time listening to bands.
And what better teachers than Copperpot? They weave the classic influences into a modern frame and are proud to call their sound "power pop". On a sunny late holiday weekend afternoon, they took the stage in a fundraiser for "Race for the Cure". Part of their excitement is that they are animated on stage, even jumping off into the crowd. And I won't mention the nasty spray coming from the stage, that showered the fans on cue. The lead singer, Jarrett Randazzo, has a wonderful voice and he applied it to favorites such as "Stutter" and new songs like the very appropriate "Holiday Weekend". The show's encore was the ballad "Breathe", which the band dedicated to the evacuees of Hurricane Katrina.
Keep on the lookout for a yellow school bus. It might not be full of sleeping children but of the Copperpot musos taking their show to the people.
"The Odds of Winning", The Churchills
The latest album by The Churchills is being distributed widely - I bought it the day it was released at a Borders book shop in Charlotte, NC. The band recently got well deserved attention in an Associated Press article which was picked up by websites including cnn.com and grammy.com - the bandwagon is widening. The songs on the new album continue The Churchills' penchant for layering complicated melodies and rhythms together. In fact for their recent show in New York they added a keyboard player with Apple notebook in order to do justice to the music.
The songwriting on this album is top notch, and bass player Bart Schoudel increased his song count. (I'm assuming that guitarist Ron Haney wrote the songs he sings lead on and that Bart did the same). There is a much discussed change in feel, some songs are somber, probably due to the mood of the band when writing the album. When a happy sure-fire hit such as "Hey Hey Hey" is relegated to the cutting room floor, one can only guess that the reason it didn't make the cut was because it didn't reflect the band's mood at sequencing time.
What about the songs that made the cut? Well, they remind you of classic rock with added modern edginess. The melodies are as hooky as ever, and the catchiest songs start off the album with a 1-2-3 punch. In "Not So Goodbye" Bart sings the lines "And I go there", "When I could have been someone", "And I've been there" and "Something sort of missing" taking a surprising turn down the musical scale, really adding to the song. "Sometimes Your Best Isn't Good Enough" is a dancefest with an incredible rhythm. Ron's "I'm a Sucker for a Girl in Uniform" with the smart lyrics "Sexy Joan of Arc before she was ignited" is the contender for the charts, with its in-your-face lyrics and memorable hooks.
In fact the influences are right below the surface - just scratch and they're revealed. The title song has a coda most reminiscent of The Who's "Baba O'Riley" with it's repeated keyboard figure, windmill-motion guitar strokes and wild-man drumming. Ron called "Do You Want Me to Go Away" the saddest song he ever wrote. You don't have to be a musician to notice the resemblance to McCartney's somber "Yesterday". The title's refrain at the song's end is SO similar to Sir Paul's "I believe in yesterday mmm...mmm...mmm" mantra. The next song up "It Only Hurts When I Breathe" includes orchestration which is an homage to Brian Wilson's Pet Sounds period, and is a trip to listen to with headphones.
Listen to the rest of the album and you'll make your own discoveries. "The Odds of Winning" is a sure bet.

My Trip to Liverpool May, 2005
Your humble reporter in Charlotte, NC June 2005
Photo by Charles Barkman
Friday - to Newark Airport
Frantic day as usual, made the train to Newark with ten minutes to spare, though. Crowded train, lines for the cafe up the wazoo, had my usual hot dog and hamburger. Very convenient transfer to the airport hotel.
Saturday - to London
Started off the day wrong, hope the bad luck was behind me. Found an empty used bottle of shampoo and no bath towels in the Fairfield Inn. Complained at checkout and received $20 off my room. Then the desk clerk added insult to injury - "I wish you had let us known last night." Waited at the gate to enplane, a parade of beautifully coifed and attired Virgin flight attendants walked by. Passed the Upper Class cabin with subdued blue lighting and a bar. My business class seat, paid for by frequent flier points, wasn't too shabby, with a bucket seat, a bunch of tchotchkes "amenities", and a chief attendant making announcements in a heavy Scotch lilt. Served both breakfast and tea, with an amazing choice of seatside entertainment. Watched "The Mayor of Sunset Strip" twice! Corridors, corridors, corridors, went through the perfunctory immigration questions and then into the Arrivals terminal. Everything's the same as the states, but with an English brand. Funny bills and coins, strange kinds of candy and magazines in the newsstand, and a free ATM! Found the "hotel hoppa" which took me to my spacious, well appointed club room (burned more of those frequent flying miles). Listened to BBC 2, at least the music is familiar - Jim Croce's "Operator". Slept seven hours and ready to head to Liverpool.
Sunday - Liverpool Day One
Will I do anything but travel on this vacation? Just didn't want to face the expense of an automatic transmission car, with the constant worry of remembering to drive on the left. So I took the "hotel hoppa" back to the terminal, took the Heathrow Express to Paddington, the 205 bus to Euston Station, the Virgin Rail to Liverpool, walked to the bus station and took the S3 bus to the Crowne Plaza, whew! The Virgin rail was lacking the beautiful attendants of the Virgin Air, but was quite modern. I was the only one who had reserved a first-class upgrade, but several decided to join me impromptu, including a noisy party of six, with a man who yelled "Halo" into his cell phone in five-minute intervals.
David Bash (the organizer of the International Pop Overthrow festival), and his girlfriend Rena gave me warm "hellos" and I sat back at the replicated Cavern Club for the sets of five bands much more rocking than the usual IPO festival fare. In particular, No Standards from Manchester had a lively punk-rock sound, but their smirks gave away the fact that they were just kidding. The lead singer was cheeky, saying naughty things from the stage to Rena, "the lady in the pink shirt". Zatopeks were memorable, they were a powerful rock quintet whose players spent as much time in the audience as on the stage. The lead singer had a garden of eyebrows under his forehead, and he led raucous modern sounds with a strangely contradictory late-50's feel. The guitarists looked like biology grad students, but frantically strummed their guitars.
Out into the Liverpool night, like most cities, the long lines were in front of the discos. However IPO did draw a nice crowd, and there were many fans in the second room listening to a different menu of bands. BTW, the replica Cavern Club seemed like a brick-walled wine cellar or rail tunnel, down four flights of stairs, one of the most unusual places to hear music. One could imagine squeezing into the original Cavern Club in 1962 to see the latest hot band, The Beatles.
Spring Bank Holiday in Liverpool
Gee, the English have a funny name for Memorial Day. Went to the Beatles Story exhibit, which was a bit wasted on me, since I knew that story cold. Lots of photos but not that many real artifacts. Got literally the last ticket for "The Magical Mystery Tour" led by the name-dropping guide (I think his name is Eddie), who not only pointed out places such as the Woolworth's where Cynthia Lennon worked during her college breaks, but also mentioned his recent discussion with Cynthia about Julian Lennon's forthcoming marriage - a "secret" he divulged to a bus full of strangers. He was the most connected tour guide in history - having spoken to Yoko Ono and many other important figures of Beatles lore. He mentioned the dates of the Beatles' last visits to Liverpool - Paul was here in October.
Roll up for a Mystery Tour: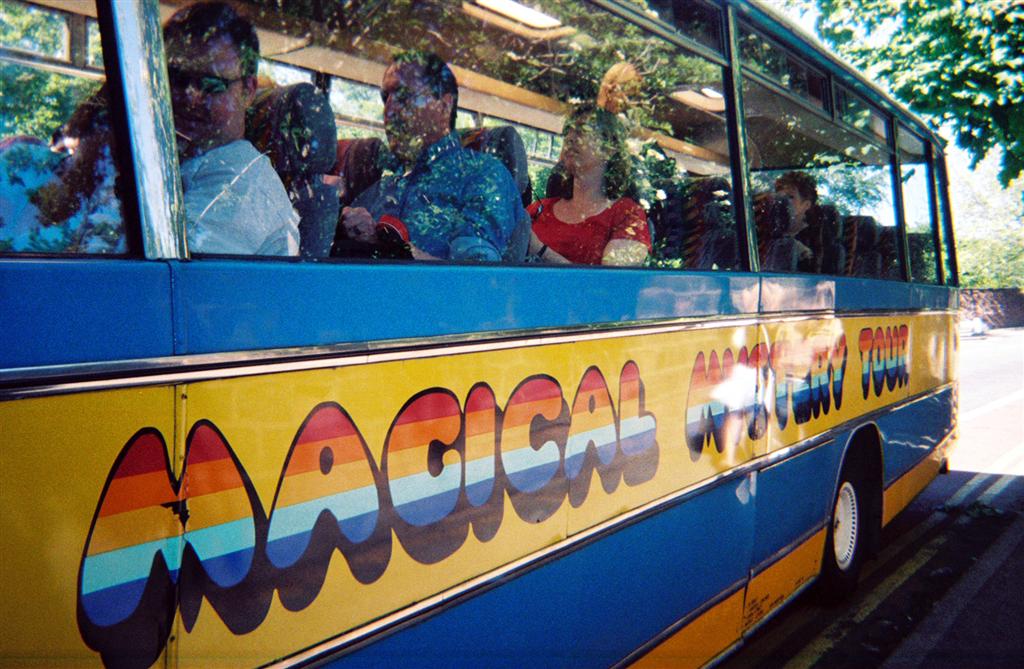 I did enjoy stopping at Penny Lane: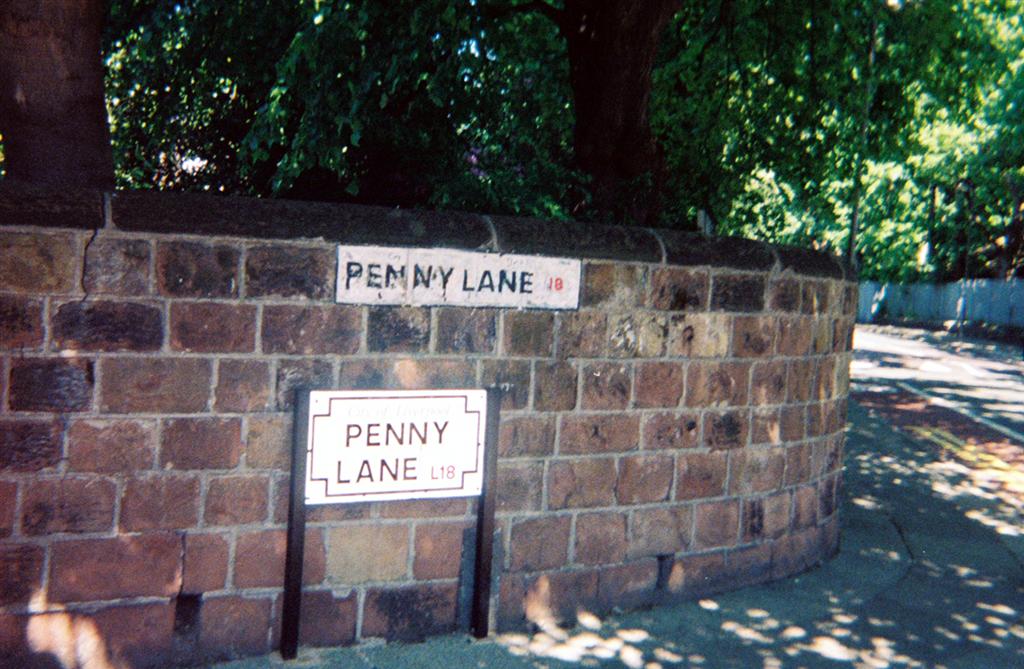 And looking at Paul's boyhood home: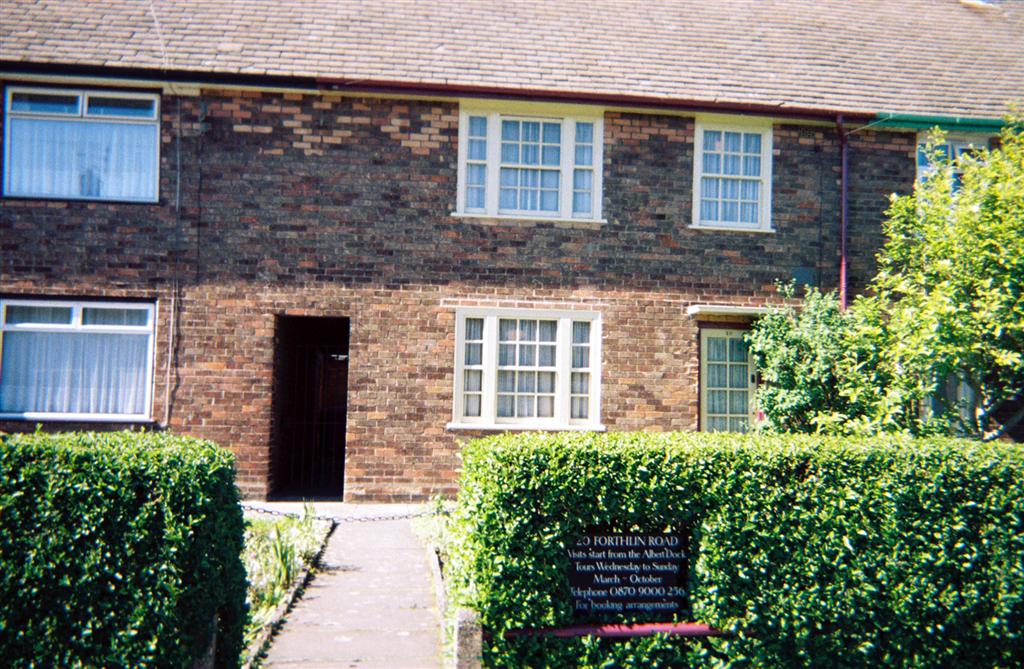 Next to the International Pop Overthrow at the replica Cavern Club, seeing five bands each of whom had something going for them. The best was the young band Harrison, whose guitar mastery could bring them fame.
Here's a picture of the Phamous Phaces who came from Oregon to play for the Liverpool audience: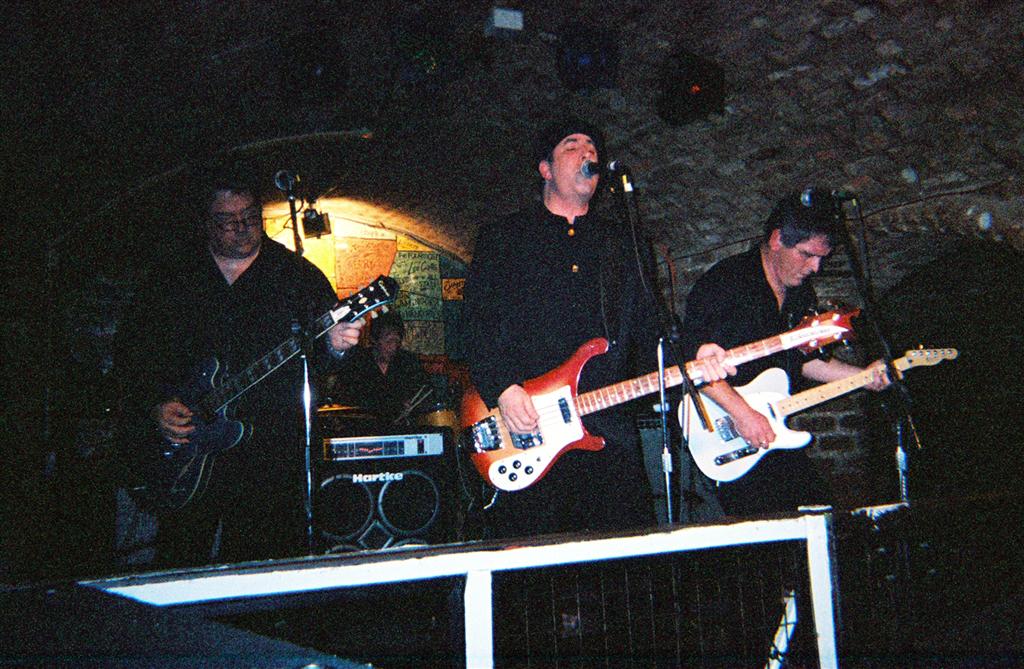 Last, back to the hotel bar for sandwiches and drinks with cousin Elaine and her fiancé Dean who traveled from Blackpool. We ate all our food, no need to ask for doggie bags!

The Gin Blossoms played in Ashburn, Virginia on August 1, 2004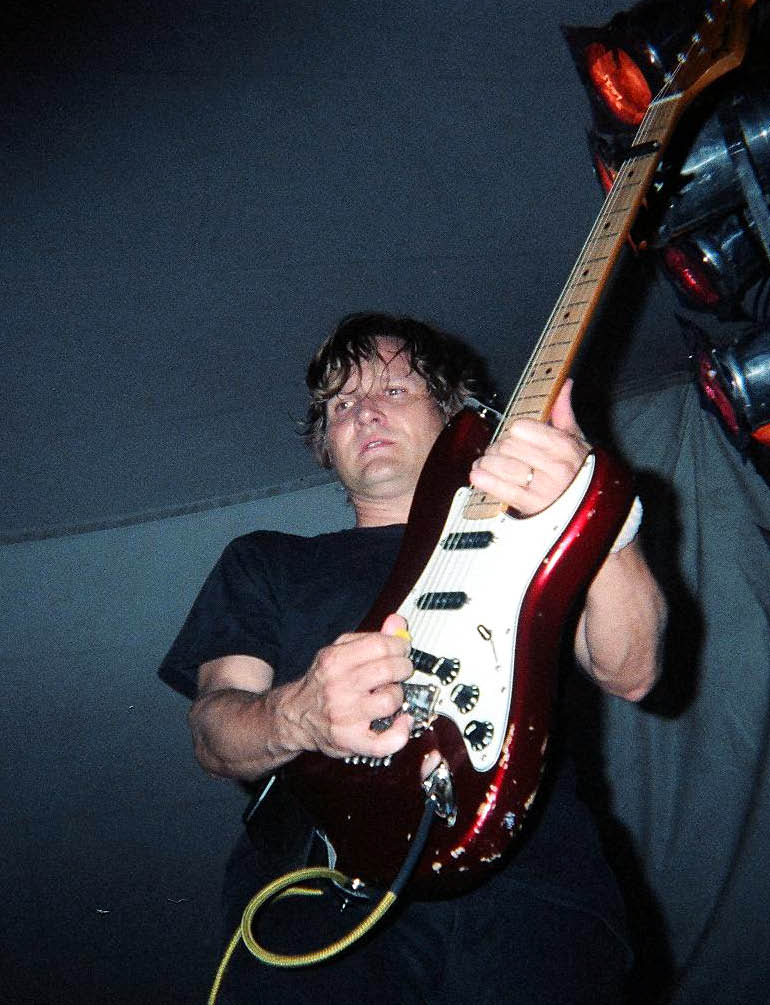 Scott Johnson, lead guitar
Robin Wilson, Lead Cameraman LOL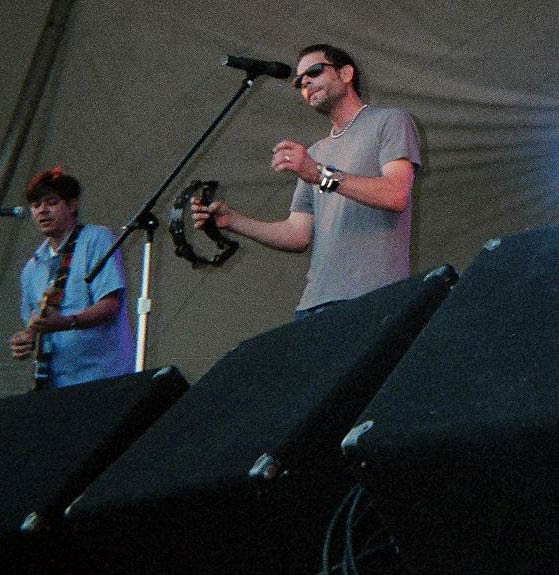 Jesse Valenzuela, Lead Guitar and Robin Wilson, Lead Vocals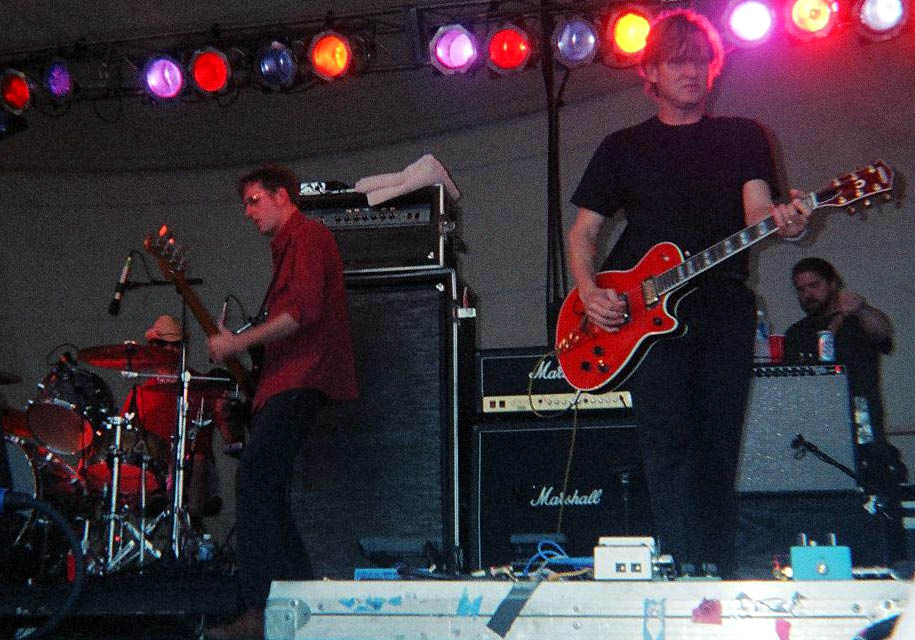 Drummer Scott Kusmirek, Bassist Bill Leen and Scott Johnson

Fells Point Oyster Festival 10/21/2001
Sponsored by Guinness Draft, and re-titled "America Unites Concerts", the third annual edition of this Baltimore street festival featured food, brew, and power pop music. On the bill were The Bastards of Melody (from New Jersey), Cliff Hillis and the Forward Thinkers (from Delaware), an all-star jam with members of the Joiners, Lola, Myracle Brah, The Naked Sams (from Massachusetts), Splitsville, Starbelly, and Three Sixty Loose. The weather was perfect, sunny and near eighty degrees, so lots of money was raised for the police/fire/rescue relief charity and the "Give a Kid a Horn to Toot" fund.
The Splitsville segment of the festival was unique because it featured the public debut of new member Tony Waddy, whose guitar and voice filled out the band's sound nicely: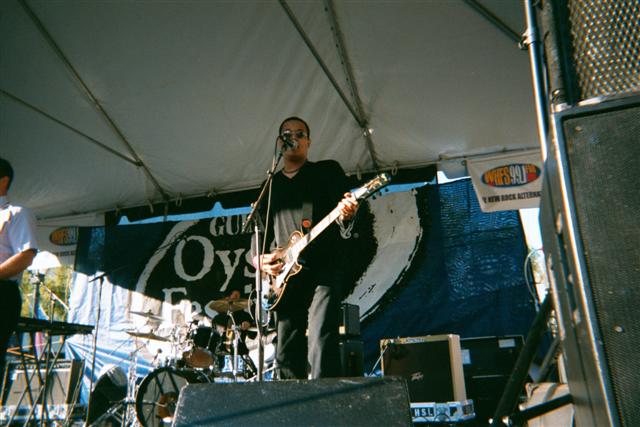 Tony Waddy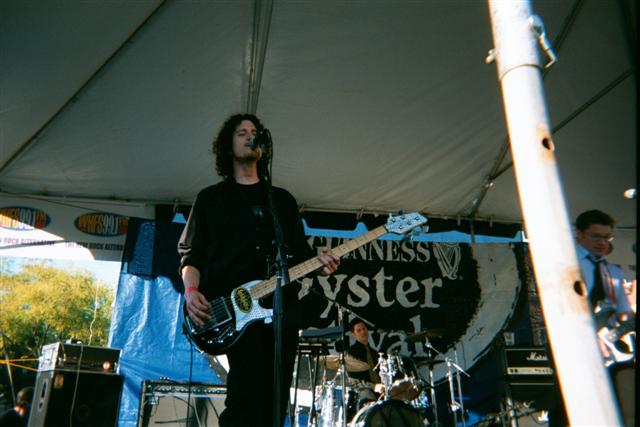 Paul Krysiak, Brandt Huseman, a pole, Matt Huseman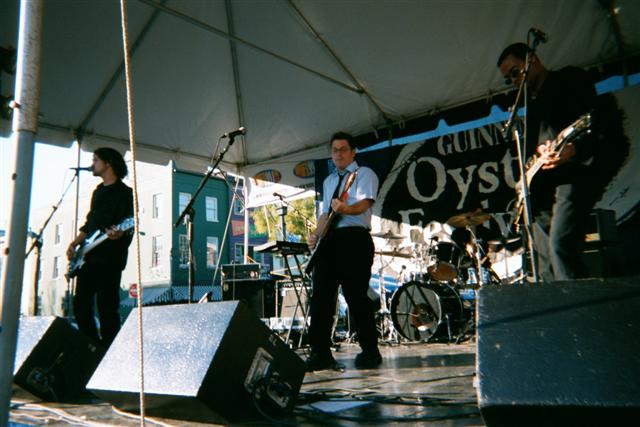 Paul, Matt, Where's Brandt? and Tony

THE WEBMASTER'S BEST ALL-TIME POWER POP ALBUMS:
adam daniel, blue pop
badfinger, straight up
chris von sneidern, wood + wire
dwight twilley band, twilley don't mind
flamin' groovies, shake some action
gin blossoms, congratulations i'm sorry
gigolo aunts, minor chords and major themes
the go-go's, beauty and the beat
mayflies usa, summertown
moon martin, street fever
paul kelly and the messengers, so much water...
pezband, laughing in the dark
posies, frosting on the beater
the records, crashes
the rubinoos
splitsville, repeater
shoes, present tense
starbelly, lemon fresh
teenage fanclub, grand prix
weezer, green album
THE WEBMASTER'S BEST OF 2007:
1. dan wilson, free life
2. bruce springsteen, magic
3. myracle brah, can you hear the myracle brah?
4. the orion experience, cosmicandy
5. crowded house, time on earth
6. p. hux, kiss the monster
7. primary 5, go
8. mary weiss, dangerous game
9. rooney, calling the world
10. john hoskinson, pancho fantastico
11. carrie underwood, carnival ride
12. the click five, modern minds and pastimes
13. fountains of wayne, traffic and weather
14. paul mccartney, memory almost full
15. america, here and now
AUDITIES DISCUSSION GROUP FAVORITES:
1. Fountains Of Wayne -- Traffic And Weather (685 points)
2. The Red Button -- She's About To Cross My Mind (501)
3. The Nines -- Gran Jukle's Field (326)
4. Future Clouds & Radar --Future Clouds & Radar (269)
5. Paul McCartney -- Memory Almost Full (268)
6. Bruce Springsteen -- Magic (241)
7. Amy Winehouse -- Back To Black (231)
8. John Hoskinson -- Pancho Fantastico (225)
9. Wilco -- Sky Blue Sky (217)
10. The Broken West -- I Can't Go On, I'll Go On (206)
11. Nick Lowe -- At My Age (205)
Robert Plant and Allison Krauss -- Raising Sand (205)
13. Crowded House -- Time On Earth (202)
14. Spoon -- Ga Ga Ga Ga Ga (198)
15. Rooney -- Calling The World (194)
16. The New Pornographers -- Challengers (192)
17. Maple Mars -- Beautiful Mess (171)
18. Lewis Taylor -- The Lost Album (168)
19. Farrah -- Cut Out And Keep (165)
20. Ken Sharp -- Sonic Crayons (156)
THE WEBMASTER'S BEST OF 2006:
Syd 'n' Susie, Between The Covers, Vol. 1
Justin Glanville, Blue Stars
Guster, Ganging Up On The Sun
Chris Brown, Now That You're Fed
Gin Blossoms, Major Lodge Victory
The Goldbergs, Hooks, Lines and Sinkers
Cheap Trick, Rockford
Alejandro Escovedo, The Boxing Mirror
Raul Malo, You're Only Lonely
The Decemberists, The Crane Wife
Jon Auer, Songs from the Year of Our Demise
The Anderson Council, The Fall Parade
Locksley, Don't Make Me Wait
Beatles, Love

THE WEBMASTER'S BEST OF 2005:
1. ike, In Real Life
2. The Churchills, Odds of Winning
3. True Love, Wings
4. Brendan Benson, The Alternative to Love
5. Weezer, Make Believe
6. Teenage Fanclub, Man-Made
7. The Rubinoos, Twist Pop Sin
8. Chris von Sneidern, CA Redemption Value
9. Dwight Twilley, 47 Moons
10. The Pale Stars
11. De Novo Dahl, Cats and Kittens
12. The Volebeats, Like Her
13. Wired, Your First Time
14. Orange Park, Songs from the Unknown
15. Spongetones, Number 9
16. Glen Phillips, Winter Pays for Summer
17. MiGGs, Insomnia
18. Dishwalla
19. The Click Five, Greetings from Imrie House
20. Fountains of Wayne, Out of State Plates
THESE ARE THE BEST CD'S OF 2004:
1. Smile, Brian Wilson
2. American Idiot, Green Day
3. My Favorite Revolution, Eugene Edwards
4. Department Store Girl, The Rosenbergs
5. Hi-Tech Lowlife, The Davenports
6. Futures, Jimmy Eat World
7. Power This, The Jellybricks
8. Everyone's Having Fun Tonight, Eytan Mirsky
9. Born Innocent, The Proclaimers
10. Better Living Through Compression, Cliff Hillis
11. Travels in the South, Chris Stamey
12. Underneath, Hanson
13. Weightlifting, The Trash Can Sinatras
14. Ways and Means, Paul Kelly
15. Ruff Trax, Barry Holdship
16. Guilt Show, The Get Up Kids
17. Around the Sun, R.E.M.
18. Hopes and Fears, Keane
19. You are the Quarry, Morrissey
20. Paint the Town, The Push Stars
The Best CD's of 2003 (Says me)
1. Fountains of Wayne, Welcome Interstate Managers
2. The Jayhawks, Rainy Day Music
3. Splitsville, Incorporated
4. IKE, Parallel Universe
5. True Love, I Was Accident
6. Guster, Keep it Together
7. The Bangles, Doll Revolution
8. Walter Clevenger and the Dairy Kings, Full Tilt and Swing
9. Mark Bacino, The Million Dollar Milkshake
A quartet of self-titled albums:
10. Rooney
11. Stereosoul
12. Copperpot
13. The Thorns
14. Evan Dando, Baby I'm Bored
15. Chris von Sneidern, The Wild Horse
16. Paula Kelley, The Trouble with Success or How You Fit Into the World
17. Marshall Crenshaw, What's in the Bag?
18. Warren Zevon, The Wind
19. Fleetwood Mac, Say You Will
20. Matthew Sweet, Kimi ga Suki
The Best CD's of 2002 (IMHO)
1. The Churchills, Big Ideas
2. Starbelly, Everyday and Then Some
3. Phantom Planet, The Guest
4. The Mayflies USA, Walking in a Straight Line
5. Gigolo Aunts, Pacific Ocean Blues
6. Brendan Benson, Lapalco
7. Joe Mannix, White Flag
8. Kelly's Heels, Bent Over Backwards
9. The Rubinoos, Crimes Against Music
10. Chris Isaak, Always Got Tonight
11. Sean Altman, Alt.Mania
12. Dishwalla, Opaline
13. Elvis Costello, When I Was Cruel
14. Tommy Keene, Merry-Go-Round Broke Down
15. Richard X. Heyman, Basic Glee
16. Fool's Face
17. Superdrag, Last Call for Vitriol
18. Jackson Browne, The Naked Ride Home
19. Darden Smith, Sunflower
20. Tom Petty and the Heartbreakers, The Last DJ
My Best of 2001 List
Paul McCartney, Driving Rain
The Rosenbergs, Mission: You
Mannix, Come to California
Splitsville, The Complete Pet Soul
Cliff Hillis, Be Seeing You
Copperpot, Nothing Lasts Forever
Semisonic, All About Chemistry
Eytan Mirsky, Was it Something I Said?
Weezer
Better than Ezra, Closer
Swag, Catch-All
Butterfly Jones, Napalm Springs
George Usher, Days of Plenty
Evelyn Forever, Good to be Alive
The Proclaimers, Persevere
Tommy Keene, Showtunes
Old '97s, Satellite Rides
Sparklejets uk, Bamboo Lounge
Glen Phillips, Abulum
The Pills, Kick In
And My Best of 2000:
1. The Jayhawks, Smile
2. Brian Wilson, Live at the Roxy Theater
3. Aimee Mann, Bachelor #2
4. TSAR
5. SR-71, Now You See Inside
6. Chris von Sneidern, Live Start Lifting
7. Eytan Mirsky, Get Ready for Eytan!
8. Mark Johnson, Last Night on the Roller Coaster
9. Fastball, The Harsh Light of Day
10. Michael Penn, MP4
11. Myracle Brah, The Myracle Brah
12. The Finkers, Double Back and Go!
13. Teenage Fanclub, Howdy!
14. The Davenports, Speaking of the Davenports
15. Badfinger, Head First
16. The Beautiful South, Painting it Red
17. Evelyn Forever, Good to be Alive!
18. John Wesley Harding, The Confessions of St. Ace
19. Green Day, Warning
20. Dan Bryk, Lovers Leap